The Weekly Etsy Report
And the saga continues!  I'm eager to make a variety of neat things available to my clients and so once again I have been extremely busy.  Here's a list of the new things available at my Etsy store:
"Green Witch" Altar Pentacle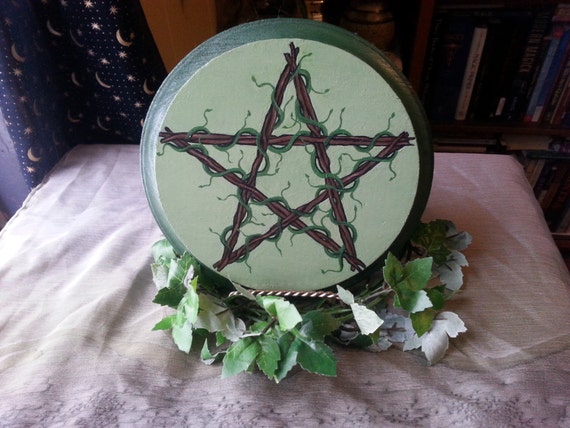 My altar pentacles are handpainted original acrylic paintings on beveled pinewood disks (no pressboard here!) Each one is a unique, one-of-a-kind artwork. No design ever has been, nor will ever be, imitated.
This pentacle is intended for the green witch, the forest witch, the herbalist and the kitchen witch. The pentagram is woven wicker covered in green vines budding new growth. If you look carefully you will see that not all of the sprouts have leaves; only those reaching towards the sun. The background is light Victorian green, with a darker "old ivy" green border on the beveling. What better representation of the magickal tool of Elemental Earth?
Each pentacle is finished with spray varnish so it won't chip or run, and a soft felt backing (in this case, emerald green) so it won't scratch up your altar or snag in your altar cloths; and is created in sacred space. If you request it in the notes to the seller I will also add a wall hanging attachment. Note that this will somewhat spoil the effect of the felt backing on your altar surface.
The disk is a little larger than my average – about seven inches inches in diameter – and about half an inch thick.
Updated: Runestones
I have a whole variety of new options to choose from for hand-carved, hand-painted crystal runestones!
Local, spectacular, dark green BC Jade: Dark Green with Gold Runes, Satin Green Bag (to access & gain insight from the spirit-world)
Prehnite: Light Green with Black Runes, Dark Green Stanwell Bag (to enhance precognition and further spiritual growth)
Sophiaite (Rosophia [tm]):Pink with Black & Silver Veins and Black Runes, Pink Crocheted Bag (for insight from the subconscious and from the Divine Feminine)
* So here's the deal with this stuff.  There's this guy who wrote a book about new crystals we hadn't seen before called Stones of the New Consciousness.  What he does is to go around to used-up mines, find stones in there with metaphysical properties, determines what they are; and then he makes up a stone name, which he trademarks, and then sells those stones for a much-inflated price, claiming that his unique, trademarked stone is only valid if it comes from that mine.  I don't doubt the metaphysical associations of the stones, but I balk at his ridiculous prices and his desire to "own" any of the Earth's natural gifts as a trademark.  Now Rosophia is a lovely stone and it does exactly what it says it does, which is to help you communicate with the Divine Feminine.  But I know this stone; I played with it as a child.  It comes from the Rockies, but I live near the base of the Rocky Mountains.  So I went and found some when I was passing through that area and polished it myself.  However, I'm not allowed to call it "Rosophia" since that is a trademarked name.  So, I'm calling it "Sophiaite" instead.  It's the "generic brand" I guess.  But, as I said, it does exactly the same thing, so why not get it from me for a reasonable price instead?
Leopardskin Rhyolite: Pink Spotted with Light Green Runes, Red Leather Bag (for shamanic communication & astral travel, especially with animals and big cats)
Hematite: Silver-Black with Silver Runes, Black Crocheted Bag (for clear-thinking, grounding and protection)
Apache's Tear Obsidian: Clear Black with Pearl-White Runes, Silver-Blue Suede Bag (for scrying, insight, and dealing with the spirit-realm)
Soon to be available: Hawk's Eye, Fluorite, Moonstone, Smokey Quartz, Blue Chalcedony, and Snowflake Obsidian.
Oil of Abramelin (Recipe #2)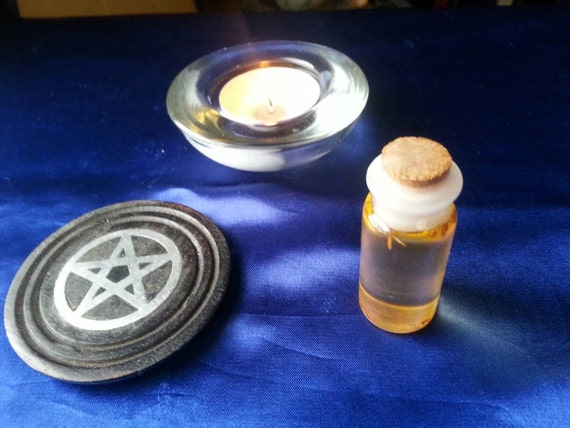 This is the original traditional recipe. Cinnamon bark, galangal and myrrh have been macerated in olive oil and set to steep for six months. I then extract 5 drams into a corked bottle and seal it with beeswax before I send it to you!  Dab it on your wrists and temples to heighten your magickal awareness and get your energies flowing! Also excellent for sex magick. A little really goes a long way. This is a contact stimulant so don't go overboard! And it smells amazing.
Custom Crystal Elixirs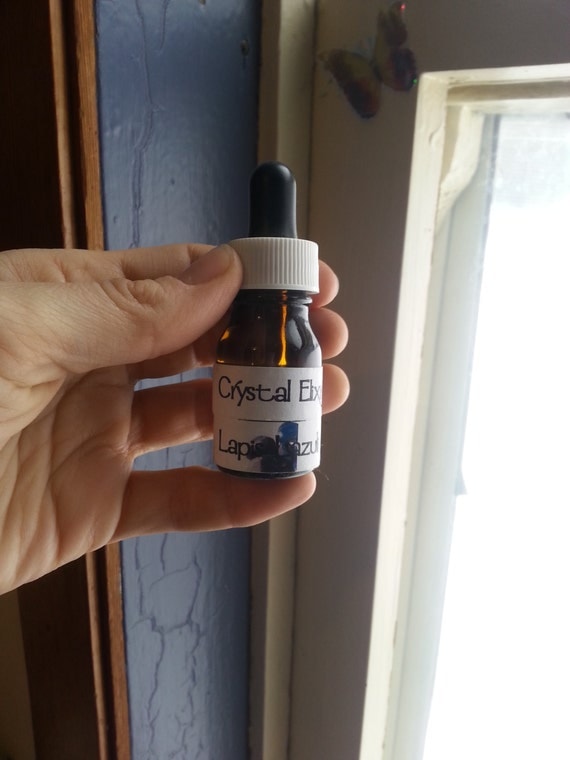 This listing is for a custom crystal elixir blend for specific ailments, made to order as you request to suit your needs. I will combine the elixirs of different crystals to make a blend specifically geared to your request. Some suggested purposes have been listed in the Variations, but I have also included the "CUSTOM" variation so that you can ask for things I have not listed. (see Variations in the drop-down menu).
These Crystal Elixirs have been created by the traditional method and charged with lunar energy and Reiki. The water drop elixirs use a combination of crystal properties infused into distilled water. This infusion process takes many days during specific moon phases to enhance the effects in which Reiki energy is also infused into the elixir at integral steps of the process. They are stored carefully out of the sun within a sacred temple space. I ship them to you in 10 dram dropper bottles.
Each crystal's elixir is suited to particular needs and ailments. Some are for energetic or magical needs (aura cleansing, balancing chakras, opening the body for channeling/drawing down work etc.); some are good for their health benefits (healing illness, easing pregnancy, reducing muscle pain etc.); and some are good for their mental/emotional benefits (improving concentration, reducing anxiety, easing stress, etc.)
Crystals – Lots of 10 Stones
And speaking of crystals, I have a whole whack of them left over from when I owned a metaphysical shop and I'm trying to clear them out, so I'm making some of them available in lots of ten.  I'll be listing them over the next week or two; these are maybe a third of what I have available: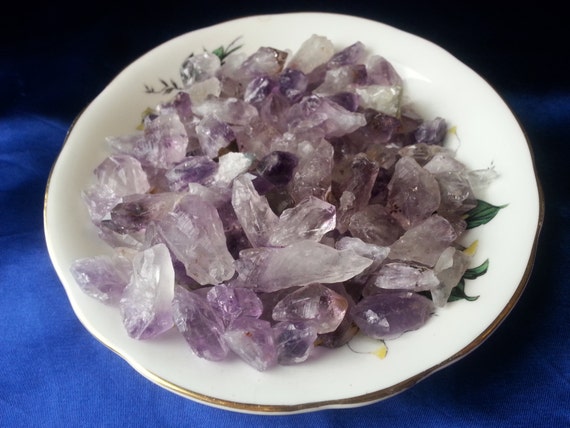 Raw Amethyst Pieces: Peace, Psychic, Sobriety, Stability, Crown Chakra, Brow Chakra, Healing, Pain Relief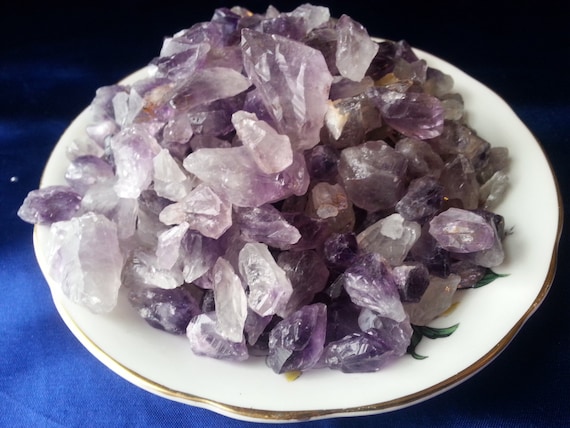 Amethyst "Dragon's Teeth" Points: as above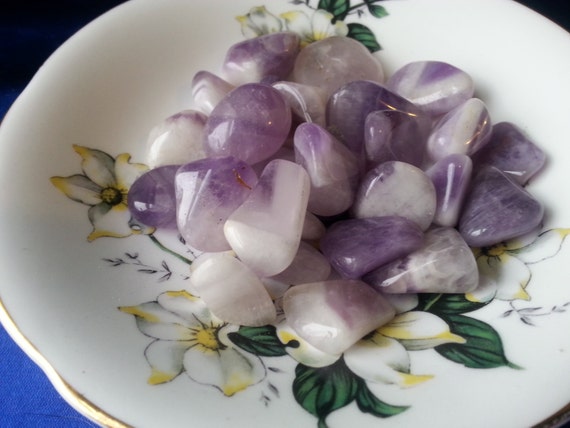 Chevron Amethyst: Peace of Mind, Self-awareness, Inner Strength, Addictions Recovery, Crown Chakra, Brow Chakra – mingling of the properties of Amethyst & Quartz, which makes it perfect for spirit-work and spiritual work of all kinds.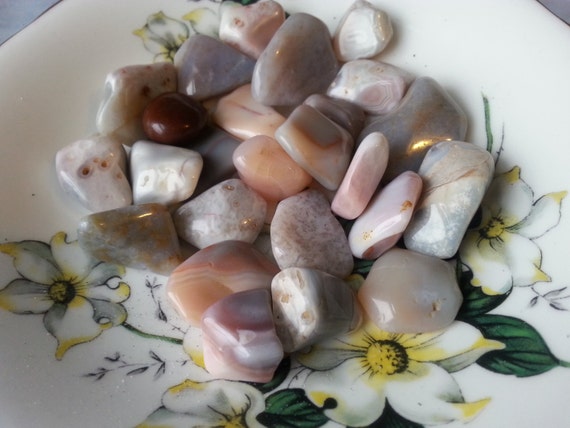 Botswana Agate: Transitions, Creativity, Solutions, Nervous System, Broken Bones, Heart Chakra.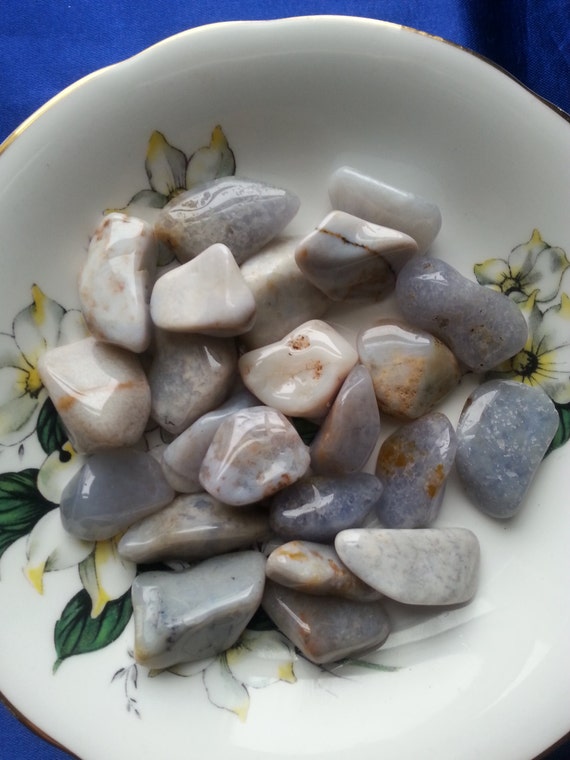 Blue Chalcedony: Mind/Body/Spirit Balance, reduces anger and hostility, communication, Brow Chakra.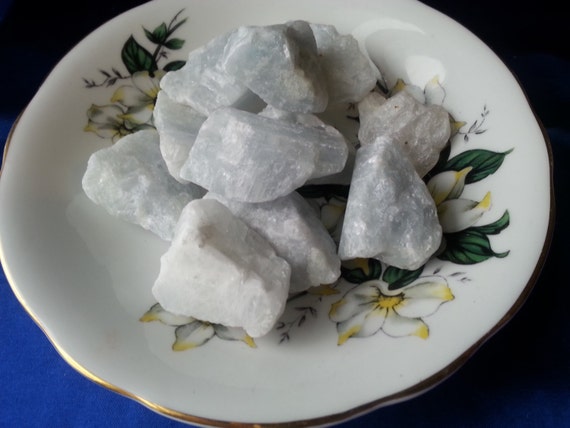 Raw Blue Calcite (large): Amplifies Energy, Reduce Fear, Reduce Stress; Blue – Soothing, Amplifies Energy, Throat Chakra, Brow Chakra.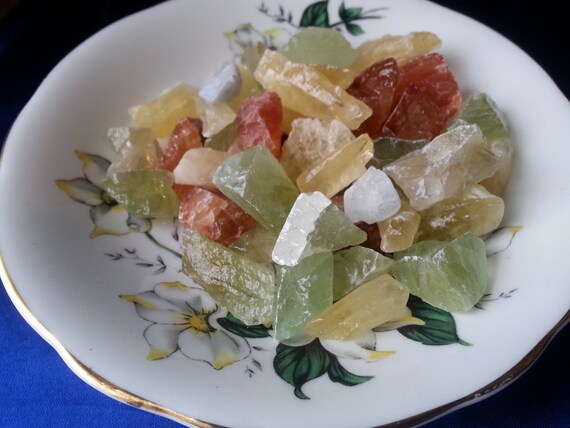 Raw Mixed Calcite (small): Amplifies Energy, Reduce Fear, Reduce Stress; Green – Prosperity, Increase, Heart Chakra; Red – Detoxify, Release Fear, Root Chakra; Yellow – Energy, Personal Power, Solar Plexus Chakra.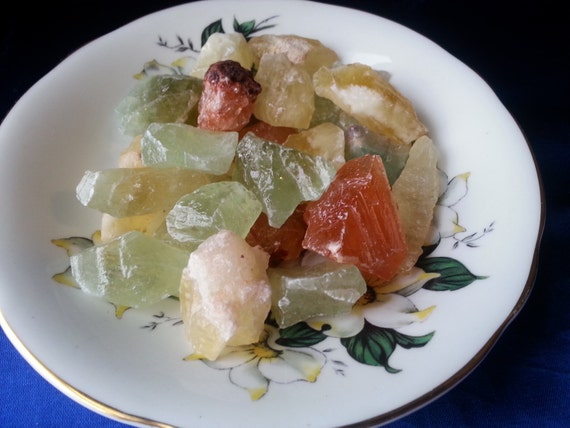 Raw Mixed Calcite (medium): as above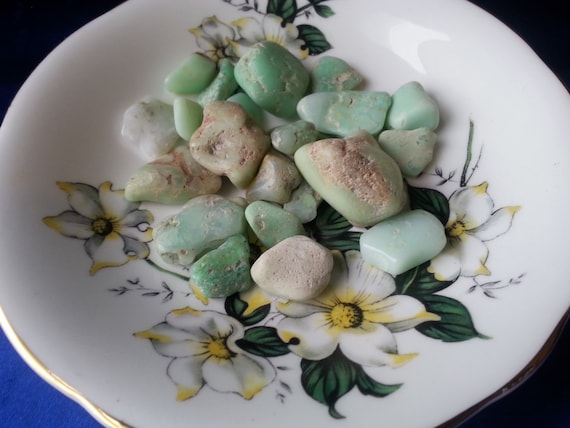 Chrysoprase: Power, Good Fortune, Prosperity, Heart Chakra, Thymus Chakra.
I have tried to price these so that you get a 25% discount from what it would cost you to buy them one stone at a time, and I'm selling them in lots of ten because it's really just as expensive to ship ten of these as it would be to ship one, so I want to make it worth your while.  Get them while you can, because when they are gone, I will not be replacing them!