Runestones Sale!
Okay, I've had a weird week and so I feel the need to do something fun.  So for just this week – Friday April 10 to Friday April 17 – I am putting my hand-carved, hand-painted semi-precious stone runestones on sale!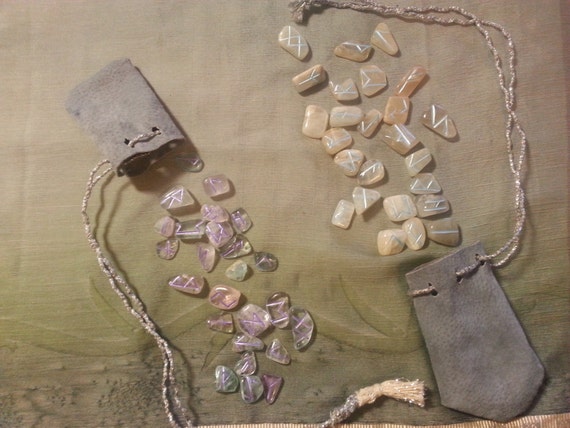 Image 1:
Moonstone: Peach Shades with Powder Blue Runes, Blue Suede Bag (for intuition and psychic insight)
Fluorite: Pastel Green and Purple Shades with Lavender Runes, Blue Suede Bag (for spiritual and psychic insight and clarity of thought)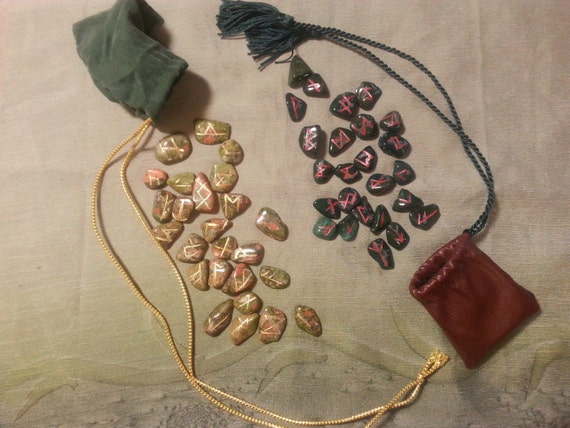 Image 2:
Bloodstone: Dark Green Red Speckles with Red Runes, Red Leather Bag (for centering, grounding, removing blockages)
Unakite: Olive and Pink Mottled with Gold Runes, Green Silk Bag (for protection and human connection)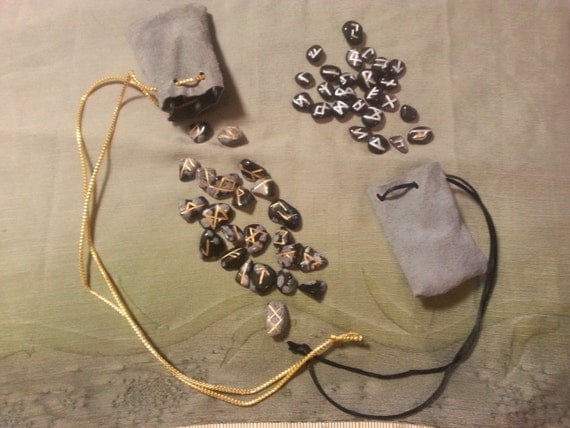 Image 3:
Apache's Tear Obsidian: Clear Black with Pearl-White Runes, Silver-Blue Suede Bag (for scrying, insight, and dealing with the spirit-realm)
Snowflake Obsidian: Black. White "Snowflake" Patterns, with Gold Runes, Blue Suede Bag (seeing patterns, shielding vs. negativity, bringing things to the surface)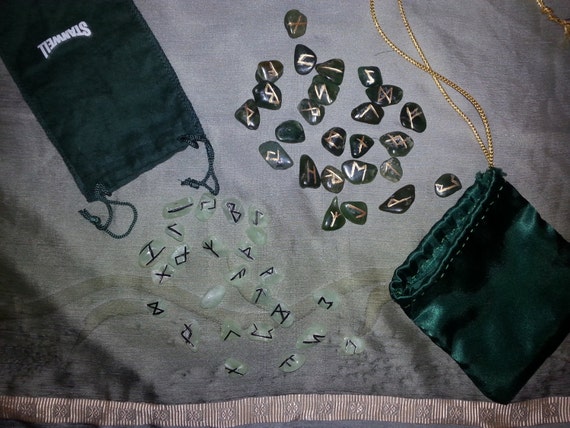 Image 4:
Jade: Dark Green with Gold Runes, Satin Green Bag (to access & gain insight from the spirit-world)
Prehnite: Light Green with Black Runes, Dark Green Stanwell Bag (to enhance precognition and further spiritual growth)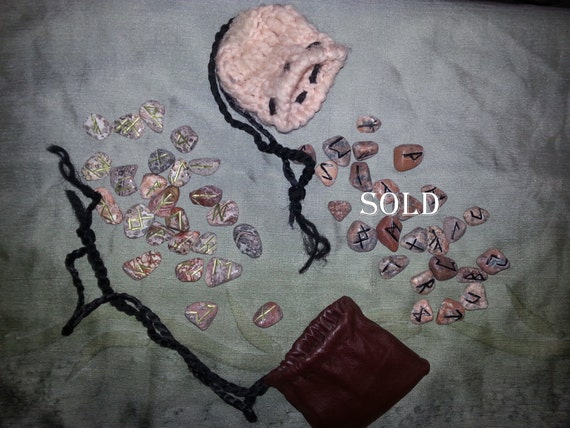 Image 5:
SOLD: Sophiaite (Rosophia): Pink with Black & Silver Veins and Black Runes, Pink Crocheted Bag (for insight from the subconscious and from the Divine Feminine)
Leopardskin Rhyolite: Pink Spotted with Light Green Runes, Red Leather Bag (for shamanic communication & astral travel, especially with animals and big cats)
NOT SHOWN ON LISTING: Hematite: Silver-Black with Silver Runes, Black Crocheted Bag (for clear-thinking, grounding and protection)
25 runes, including historically-inaccurate Wyrd (because some people like it, and if you don't, you get a free rock out of it!)
Comes standard with a knitted rune bag, but other options include silk or thin suede. This will delay shipping time as the alternative bags are made-to-order.
Custom orders on this will likely not include choice of stone due to availability, but many modifications may be made to the rune bag and colour that the runes are shown in. Open a convo and ask!
Select your preferred set in the drop-down menu.  All runes created in sacred space and can be empowered/enchanted before they are sent to you at no extra charge.  More options will be added as more runes are created.  Ships worldwide!