The Weekly Etsy Report
I haven't been as busy at Etsy this week as I have been in the past few weeks, but there's still plenty of new things to shop for!  Check it out!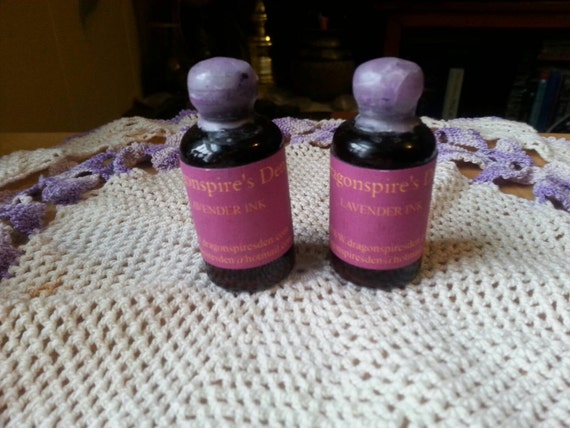 First off, I missed mentioning these on my Etsy report last week . . . I have two handmade magical lavender calligraphy inks left over from when I owned my shop . . . these were made by my friend Heatherly at Dragonspire's Den.  A bargain at $15 Cnd each.  They're beautiful and write in a clear lavender purple colour that will keep even on leather (a customer tried it.)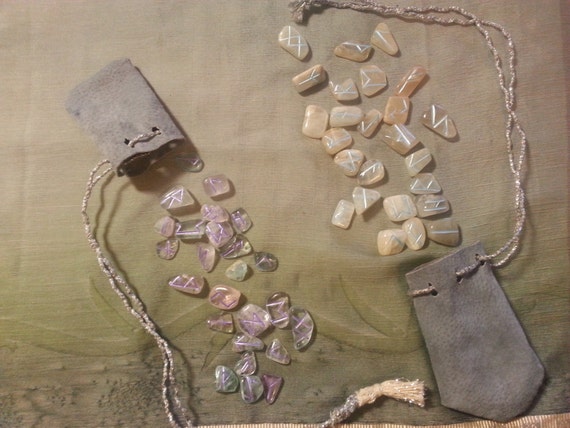 I've updated my runestones listing: I've sold two of them and made two more.  Now also available in Moonstone and Fluorite.
New lots of ten crystals:
The opal in particular is quite a deal.  It's local Okanagan opal, prospected by a friend, and yellow opal is hardly common.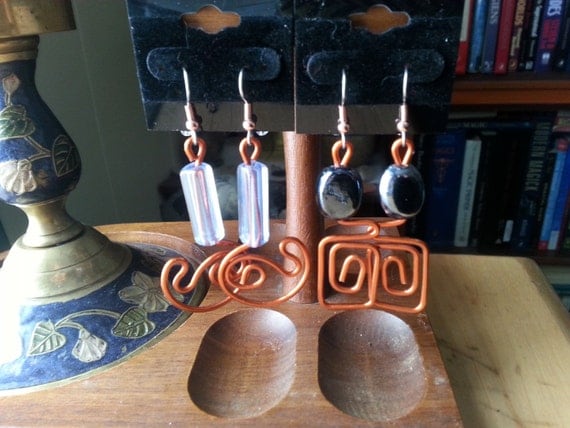 Metalwork earrings – again, left over from my store, made by a local craftsman.  I have a few different designs available so you might want to check them out to see if one of the designs appeal to you.
Let me cast your runes to gain insight into your life and future; and then I will send you the runestones I cast with! What more could you ask for?
I will cast your runes via Skype or Google Hangouts; or if you wish your reading by email, I will send you the photo via email along with a Google Docs link to download your audio file from (I don't prefer to type readings into email in text, sorry). I will require your email address in the Notes to the Buyer to make that possible.
And I've saved the best for last: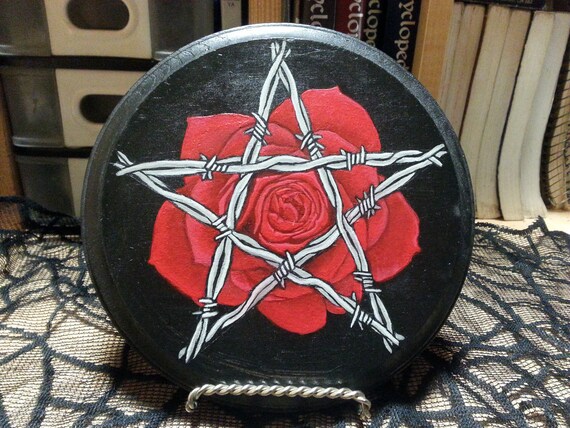 "The Scourge & the Kiss" Altar Pentacle: This is one of the most essential, and least available, witch's ritual tools. My altar pentacles are handpainted original acrylic paintings on beveled pinewood disks (no pressboard here!) Each one is a unique, one-of-a-kind artwork. No design ever has been, nor will ever be, imitated.
This pentacle is intended for the witch who appreciates balance; pleasure and pain, Kiss & Scourge, blessing and cursing, life and death. The barbed wire pentacle can represent so many things, particularly protection, but also when contrasted with the heraldic rose, it suggests technology contrasted with nature, yet working to protect and defend it.
The silver of the barbed wire was achieved by blending metallic aluminum-shaded paint with three shades of grey (not fifty 😉 ).
I think this piece would be perfect for a dedicated British Traditional, Luciferian, or Thelemic witch; anyone with an interest in kink or BDSM; or those who serve Aphrodite and/or Hephaestus, Lilith, or Babalon.  The disk is a little larger than my average – about seven inches inches in diameter – and about half an inch thick.
~ by Sable Aradia on February 24, 2015.
Posted in Art, Crafts, Etsy Shop, General Pagan, Magick, Metaphysics, Psychic, Thealogy, Wicca, Witchcraft
Tags: general Pagan, magick, metaphysics, Pagan, Pagan art, Sable Aradia, the Craft, Wicca, witch, witchcraft