This Week at My Etsy Shop
Well, it's time to do the weekly Etsy report again; wow, have I been busy apparently!  There's quite a lot of stuff to show you: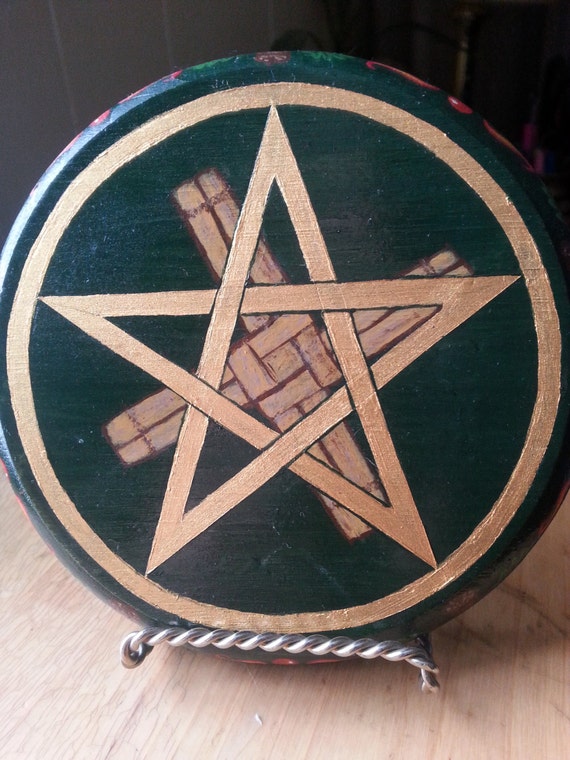 This is the second pentacle I've made for the site.  I wanted to have it done by Imbolc but no such luck, so I'll just have to hope that someone who loves Brighid as much as I do finds it!
I dedicated this pentacle to the goddess Brighid, so it is best suited to someone who is called to work with Her, be it as a Celtic Pagan goddess, a Christian saint, or a Voodoo lwa. I am a member of a Brigidine Flamekeeper order called the Daughters of the Flame myself, so a lot of personal feeling went into this.
Painted in Her colours of green and gold, which celebrate Her connection to the sun and Pagan Ireland, as well as Her descent from Danu and the Dagda and Her tribe the Tuatha de Danaan, this pentacle features Her unique symbol of a Brid's cross in the center. The border is formed of acorns and oak leaves, signifying her connection to Her shrine at Kildare "church of the oak" and the Druids; alternating with stylized flames for Her eternal flame and Her hearth fires, flanking rowan berries (which is associated with Her in Celtic legend as the tree of wisdom and prophecy.) Images are provided above of both designs to show detail.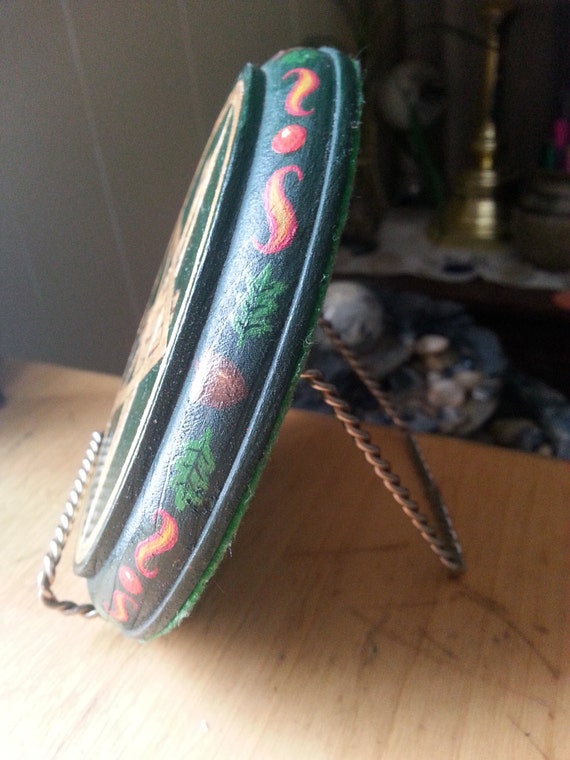 Each pentacle is finished with spray varnish so it won't chip or run, and a soft felt backing so it won't scratch up your altar or snag in your altar cloths; and is created in sacred space. If you request it in the notes to the seller I will also add a wall hanging attachment. Note that this will somewhat spoil the effect of the felt backing on your altar surface.  They are also one of a kind artworks.  I never have repeated a design, nor will I ever.
The disk is six inches in diameter and about half an inch thick.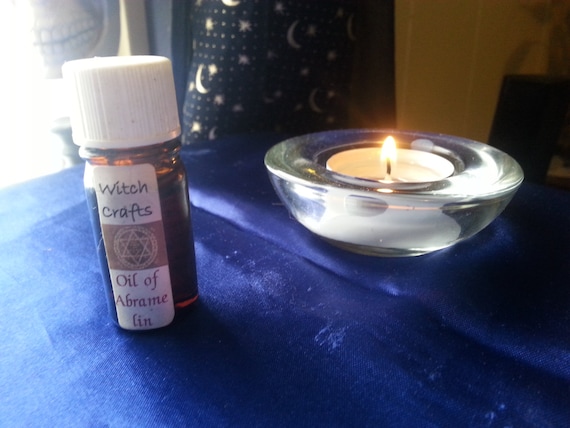 The Book of Abramelin the Mage detailed the making of anointing oil for the purpose of empowering your magickal workings.
This is a variation of that recipe that uses the essential oils of the relevant herbs. It is constructed with essential oils in a base of olive oil, as detailed by Aleister Crowley, with the addition of a small portion of galangal root.
Dab it on your wrists and temples to heighten your magickal awareness and get your energies flowing! Also excellent for sex magick. A little really goes a long way. This is a contact stimulant so don't go overboard! And it smells amazing.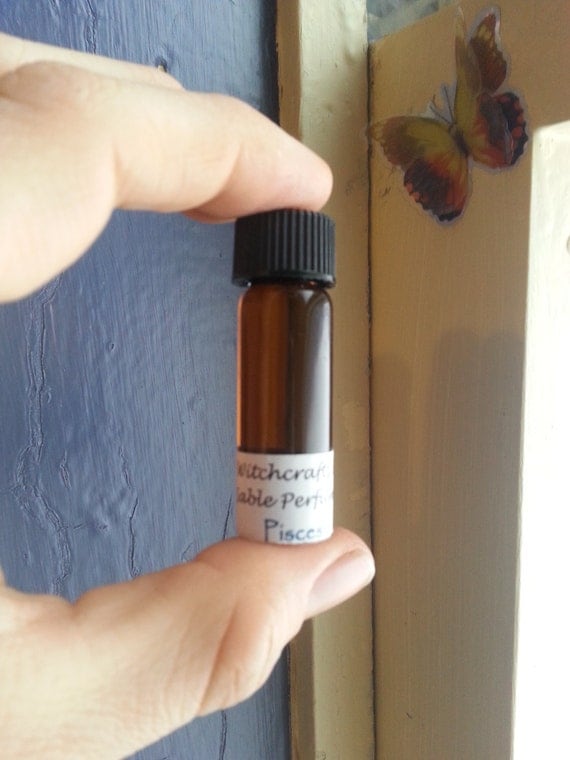 Made to order: these 2 dram bottles of perfumed oils are made with pure essential oils associated with each zodiac sign, diluted 25% in almond and jojoba oil. They are not exactly as pictured: my new versions will have hand-calligraphed labels instead of printed ones.
Options available:
Capricorn: Cypress, Oakmoss, Patchouli
Aquarius: Lavender, Benzoin, Pine or Cypress
Pisces: Lemon, Jasmine, Sandalwood or Sage
Aries: Cinnamon, Cedar, Dragon's Blood
Taurus: Rose, Thyme, Patchouli
Gemini: Lavender, Lemongrass, Peppermint
Cancer: Lemon, Eucalyptus or Rose, Sandalwood
Leo: Orange, Rosemary, Frankincense or Sandalwood
Virgo: Lavender, Bergamot, Patchouli
Libra: Rose or Spearmint, Mugwort, Vanilla
Scorpio: Basil, Galangal or Ginger, Pine
Sagittarius: Anise, Ginger, Sage or Frankincense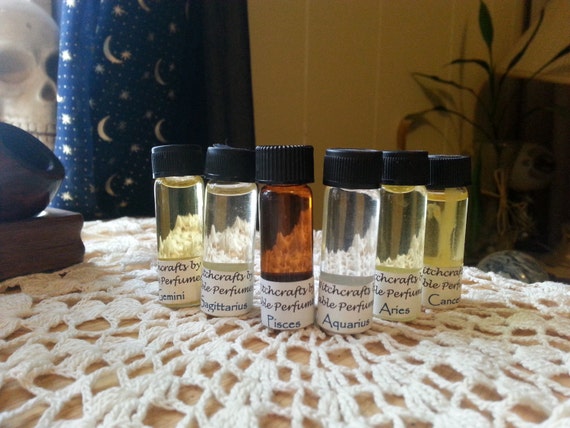 I'm also trying to clear out some old stock, so these are a little cheaper but only what you see (and a Leo with a less fancy label) are available.
Options available:
Aquarius: Lavender, Benzoin, Pine
Pisces: Lemon, Jasmine, Sandalwood
Aries: Cinnamon, Cedar, Dragon's Blood
Gemini: Lavender, Lemongrass, Peppermint
Cancer: Lemon, Rose, Sandalwood
Leo: Orange, Rosemary, Frankincense
Sagittarius: Lavender, Ginger, Sage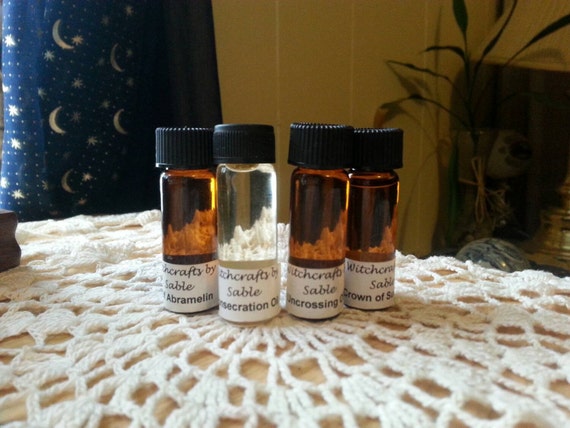 Magickal oils made-to-order according to your needs! My oils are brewed with pure essential oils diluted 25% in olive oil. They also come to you already magickally charged so they are ready for your use. The voodoo/hoodoo oils may contain bits of roots, bark and flowers. They come in 2 dram bottles and the labels will be hand-calligraphed, not printed as shown here. Request a custom oil and I will do my best to meet your needs!
I won't give away all of my secrets, but just to entice you:
Blessing: a blend of lavender, rosemary and sage
Oil of Abramelin: Crowley's essential oil recipe (cinnamon, galangal, myrrh)
Come to Me: rose, rose geranium and patchouli (among other things)
Consecration: rosemary and dragon's blood (among other things)
Crown of Success: bay and St. John the Conqueror Root
Temple: frankincense and myrrh
Uncrossing: rue and rosemary (among other things)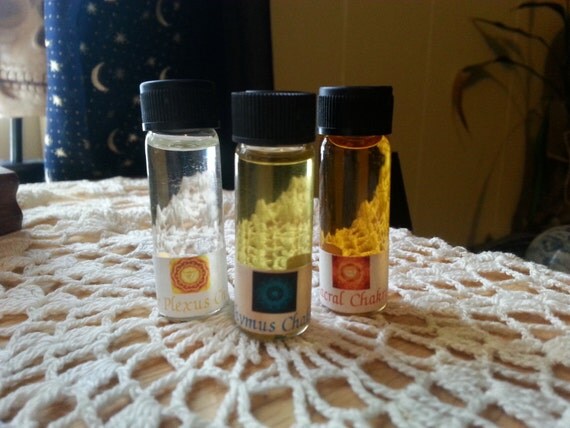 These essential oils blends are diluted 25% in almond oil or olive oil, and jojoba oil, and are not only blended according to traditional association with each chakra, but also according to colour! These are 2 dram bottles. Use them in all of your healing and mediation work, or to clear energy blockages.
REQUEST A CUSTOM ORDER for the whole set at a 25% off discount!
Root Chakra: Rose, Dragon's Blood, Patchouli (red)
Sacral Chakra: Patchouli, Orange, Cinnamon (orange)
Solar Plexus Chakra: Cedar, Ginger, Lemon (yellow)
Heart Chakra: Rose, Geranium, Neroli or Ylang Ylang (pink)
Thymus Chakra: Sandalwood, Ylang Ylang or Jasmine, Bergamot, Blue Chamomile (green-blue)
Throat Chakra: Lavender, Frankincense, Cypress, Blue Chamomile (blue)
Brow (Third Eye) Chakra: Lavender, Clary Sage, Pine or Spruce, with a drop each of Rose and Blue Chamomile (light indigo)
Crown Chakra: Frankincense, Benzoin or Myrrh, Sandalwood, Jasmine if available (clear-gold)
Please note that some oils will emulsify because they are heavy and this is normal for the product. Aside from the first few, the oils will also arrive with hand-calligraphed labels as opposed to the printed ones shown here.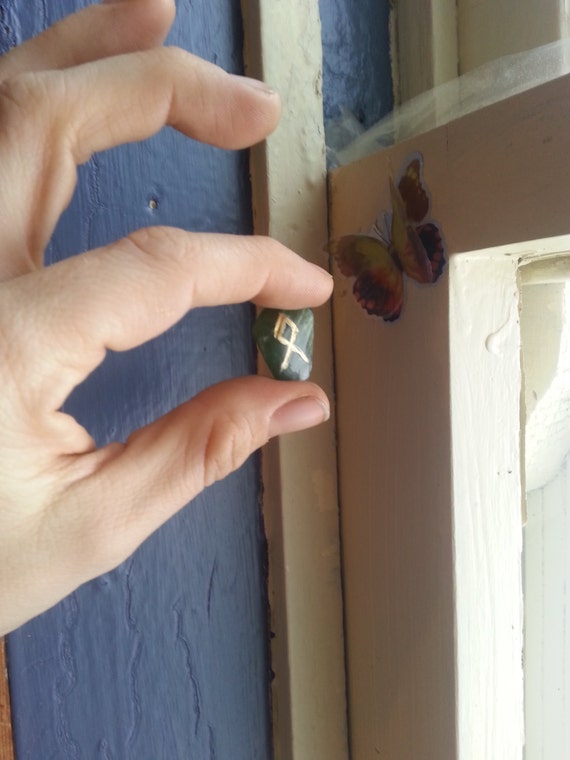 These runestones are hand-carved on semi-precious stones in sacred space. Current options: Jade,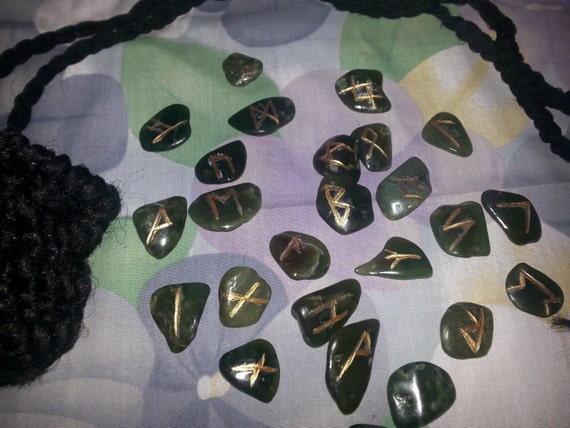 Hematite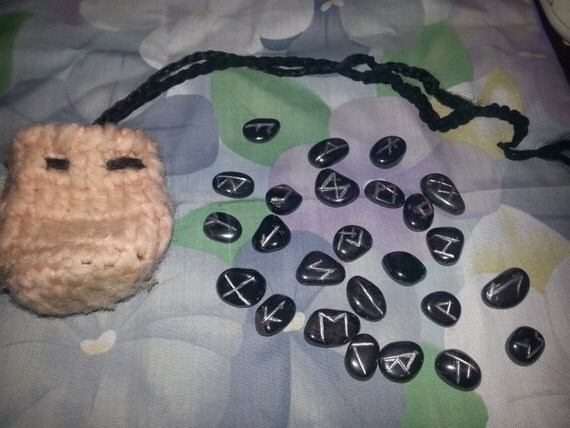 and Sophiaite.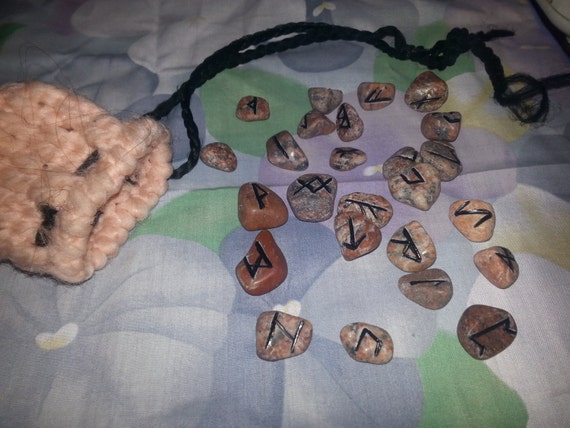 More options will be added as more runes are created.
25 runes, including historically-inaccurate Wyrd (because some people like it, and if you don't, you get a free rock out of it!)  Comes standard with a knitted rune bag, but other options include silk or thin suede. This will delay shipping time as the alternative bags are made-to-order.
Custom orders on this will likely not include choice of stone due to availability, but many modifications may be made to the rune bag and colour that the runes are shown in. Open a convo and ask!  Also available in Anglo-Saxon runes for an extra $2.50.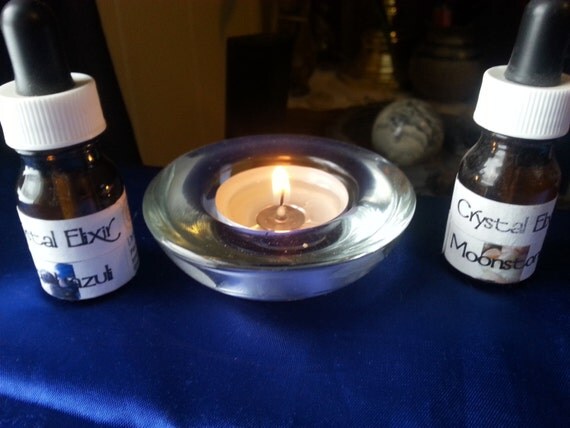 These Crystal Elixirs have been created by the traditional method and charged with lunar energy and Reiki. The water drop elixirs use a combination of crystal properties infused into distilled water. This infusion process takes many days during specific moon phases to enhance the effects in which Reiki energy is also infused into the elixir at integral steps of the process. They are stored carefully out of the sun within a sacred temple space. I ship them to you in 10 dram dropper bottles.
Each crystal's elixir is suited to particular needs and ailments. Some are for energetic or magical needs (aura cleansing, balancing chakras, opening the body for channeling/drawing down work etc.); some are good for their health benefits (healing illness, easing pregnancy, reducing muscle pain etc.); and some are good for their mental/emotional benefits (improving concentration, reducing anxiety, easing stress, etc.) For a good (though not exhaustive) list, see http://www.pegasusproducts.com/pdf/WebReadyGem.pdf.
They are made to be ingested and utilize spirits for preservation. Take a few drops under your tongue a few times a day, just like a flower remedy. USE AT YOUR OWN RISK as bacteria can grow in these bottles, especially if you touch the dropper stem to your mouth during use. Several types are currently available with more on the way! I had so many options I had to make two separate listings: the first one is for A-L, and this one is for M-Z: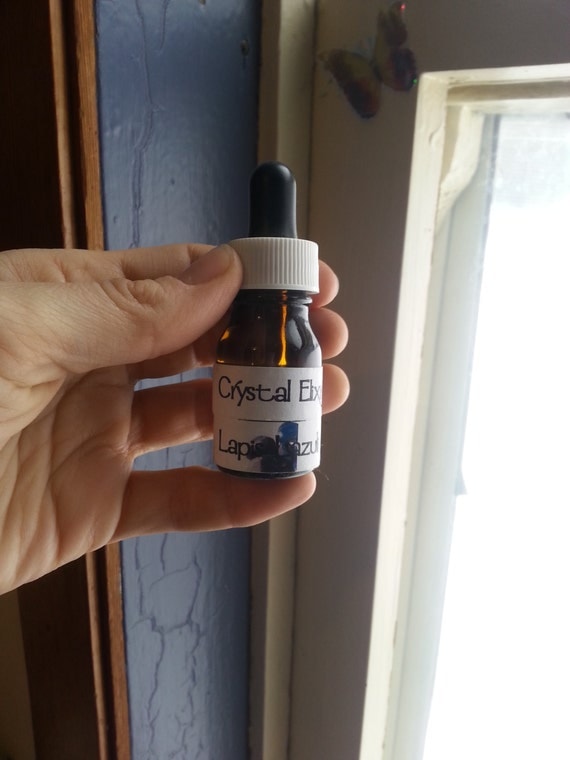 Only my older stock will have printed labels as shown. Newer stock will have hand-calligraphed labels.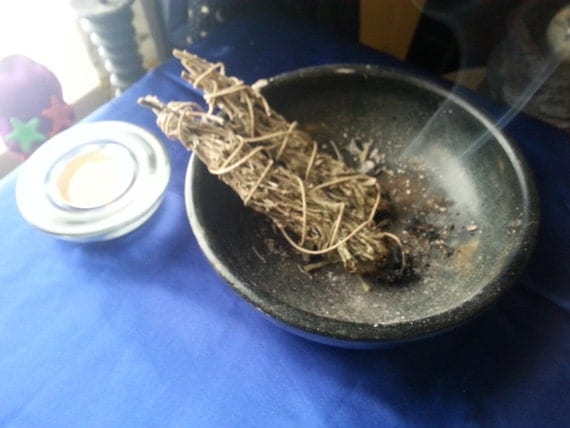 These sage bundles were wildcrafted from my home in the Okanagan Valley. The sage was harvested during the late spring and early summer months with intention and care. Only a few leaves from each bush was taken. Then it was bound and carefully allowed to sun-dry.  These ones are about 5-6 inches long.  Larger ones (9 inches) are available here: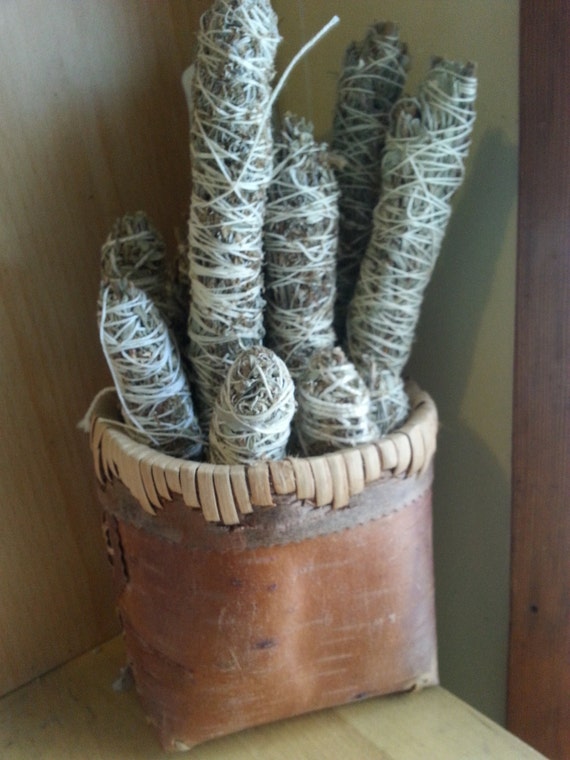 In the summer I will make custom orders available that will include rosemary, cedar, lavender, or any combination thereof in the bundle, but until then the supplies simply aren't available. So watch this listing for updates!
These bundles are a little awkward to mail so it's really in your interest to order a couple at a time to save money on shipping.
And last but not least: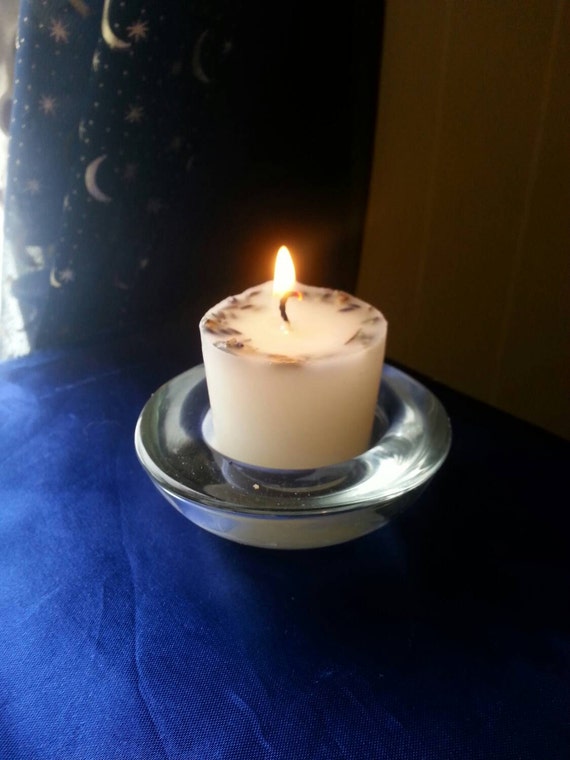 These votive candles are handmade from the purest quality white beeswax (just like traditional church candles) and scented with only pure essential oils. The particular combination of oils is designed to cleanse, bless and purify your space. Lavender brings positive energy; sage banishes negative energy; and rosemary purifies and empowers. White candles are used to bless and purify as well. Some lavender flowers have been added to the edges for decoration.
Incidentally this particular combination of scents is also suited to improve your mood, clarify thought, and improve memory.
I made six but I liked them so much that I kept one for myself!
That's it for this week!  Hopefully I should have my bank account connected tomorrow so all payment methods (and gift cards) will soon be available.
~ by Sable Aradia on February 9, 2015.
Posted in Crafts, Etsy Shop, General Pagan, Magick, Metaphysics, Witchcraft
Tags: general Pagan, magick, metaphysics, Pagan, Pagan art, Sable Aradia, the Craft, witch, witchcraft