This Week on My Etsy Site
If you missed the previous post about it, I have opened an Etsy store, where I'm offering my art, my services, and handcrafted items and potions for sale.  I've just started, but there's a few really interesting things to find already and there's going to be some new stuff coming in over the next few weeks as I add things I've been holding on to for a while (from when I had my brick-and-mortar metaphysical store) and things that I've needed some incentive to finish.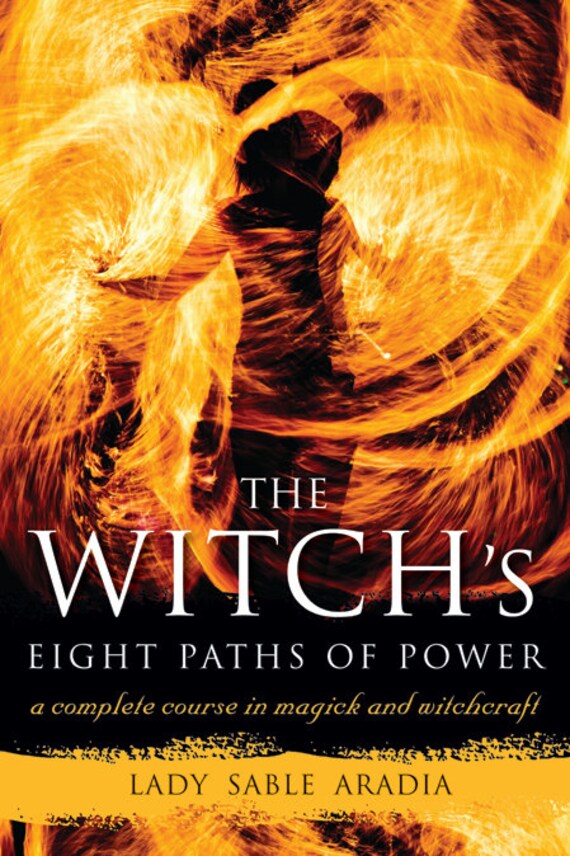 First I added my book.  Some of my friends who don't live in my area have wondered how to get a signed copy of my book; or how they can make sure that all the money comes directly to me.  I won't lie, you will find it cheaper on Amazon, but this was my answer to those questions.  And I've already sold one so that makes me very happy!  (And thanks for the support Nornoriel!)  Nornoriel is a prolific and respected Pagan writer himself, for those of you who have not seen me reblogging his stuff here, and his cool blog is called The Serpent's Labyrinth.)  $20 Cnd
This slideshow requires JavaScript.
I've added a lot of my art!  I am an occasional painter and these are my Pagan and magickal inspired devotional pieces.  This series comes from my painting "In the Beginning," which sold for $500 (my first painting sale!  I was delighted!) a year ago.  This piece was literally divinely inspired: I was seized with some classic "fire in the head" and spent three days painting from sunup to sundown.  The original was acrylic on canvas and the "glowing" effect was a achieved by mixing some metallic paints in with the other pigments.  This entry is for all four of the digital images created from the painting: you can find each of them individually as well.  $12.50 Cnd for the set.
This slideshow requires JavaScript.
This series is from four elemental paintings that I made for my Temple space.  The originals are acrylic and mixed media on canvas.  True story: I had spent two months painting the still life leaves on the "Earth" painting and I became impatient with the process.  And I thought to myself, "This might look really great with some ACTUAL leaves on it; I wonder how I can do that?"  So I glued on some leaves from the tree I was painting and coated them in paint-on lacquer to preserve them (relax; I was pruning that branch anyway.)  This was the result.  I then decided to do the rest of the series with mixed media as well and figured out methods that would make that happen and blend with the painting.  I think it really gives them life and texture.  Anyway, this entry is for all four digital images to download.  You can get them all individually as well.  $12.50 Cnd for the set.
I also have a couple of digital art pieces of mine available for download: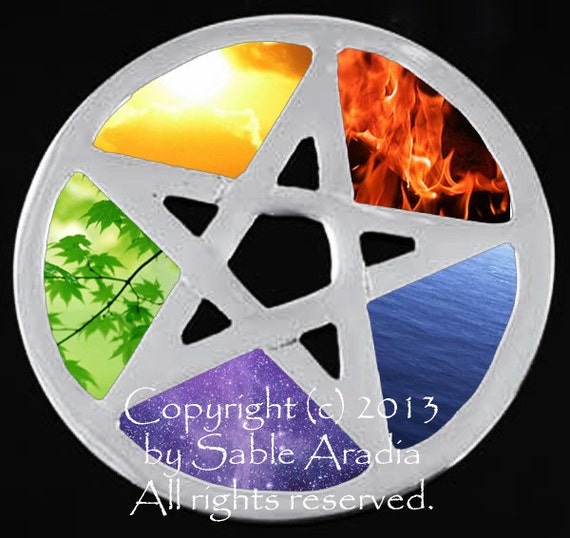 Five Elements Pentacle $2.50 Cnd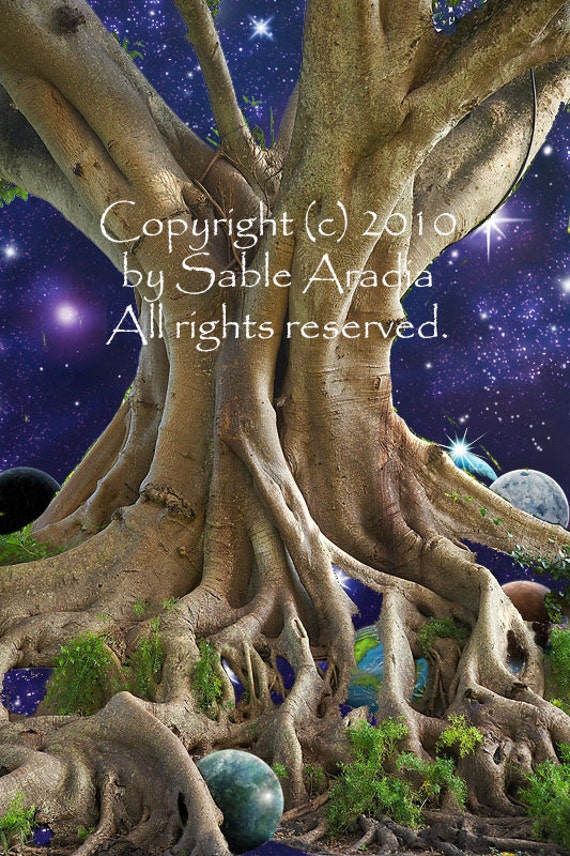 Yggdrasil: the World Tree $2.50 Cnd
Last night I added two handfasting cords that I've had from my shop.  They are created from genuine silk crafting ribbons chosen for the symbolism of their colours and suitable charms.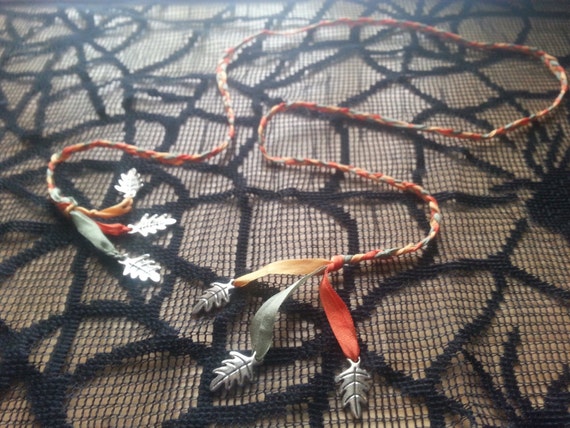 This handfasting cord draws upon the symbolism of the Eternal Oak, which was sacred to the Druids and representative of the joining of Heaven and Earth. Each end is finished by three sterling silver oak leaf charms. Three is the number of magic and good fortune in Celtic tradition. Six (since there are two threes) is the number of completion and the balance between Heaven and Earth as well.
The colours were chosen for the colour of leaves; together with the silver of the charms, they represent the cycles of the seasons (fresh green for spring, golden yellow for summer, hearth-warming orange for autumn, sparkling silver for winter.)
Each colour also has magical symbolism: green for family, growth and fertility; gold for intense, somewhat possessive love; orange for passion and success.
The cord is almost precisely two feet in length.  $25.00 Cnd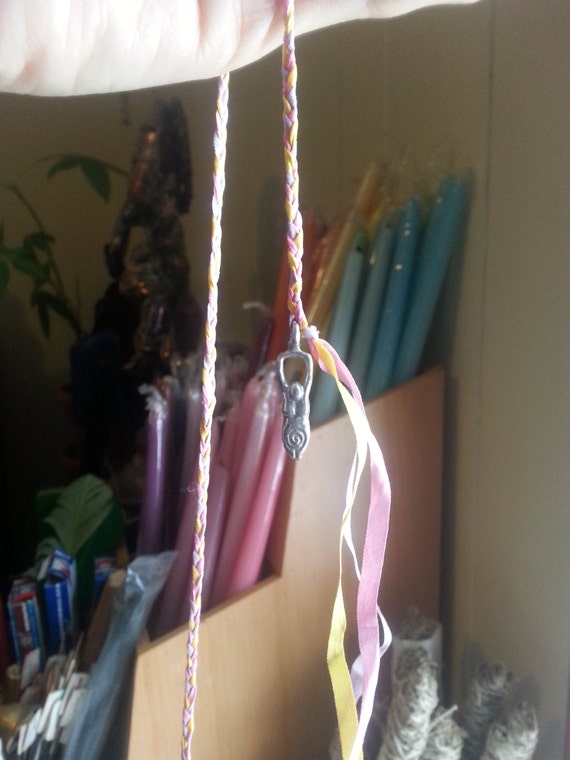 This handfasting cord is representative of the Goddess of Love, in particular Venus or Aphrodite, goddesses of romantic love and relationships. One end is finished in a pewter spiral goddess charm, who represents primal power, creation, newness and rebirth, as well as fertility for those who want that to be part of their lives. The other end is finished with a pentacle, symbolic of humanity, the balance of the four elements plus spirit, protection, and the goddess Venus.
The colours were chosen for their magical symbolism. Pink represents romantic love; yellow is for love based in good communication, joy and shared interests; lavender is for the spiritual aspects of love.
This might be especially ideal any devotee of Aphrodite and other love goddesses, Dianic witches, lesbian or gender-queer couples, and anyone with a strong focus on Goddess-based devotion or a special reverence for the Divine Feminine.
The cord is two and a quarter feet in length.  $20.00 Cnd
This week, the plan is to add some lotions & potions I've had waiting for a place to sell them, including some Witch's Flying Ointments, and also to make some of my services available (readings, consultations, healing work, etc.)  I'm also working on some handpainted pentacles!
You can find my shop HERE.  And thanks for your support!
~ by Sable Aradia on January 26, 2015.
Posted in Art, Crafts, Etsy Shop, General Pagan, Magick, Metaphysics, Wicca, Witchcraft
Tags: books, digital art, elemental art, Etsy, Etsy store, general Pagan, goddess, goddess spirituality, handfasting, handfasting cords, Horned God, magick, occult art, Pagan, Pagan art, Paganism, Sable Aradia, The Witch's Eight Paths of Power, Wicca, witch, witchcraft, writing